Assignments for the Week of October 24-28


And the will of Zeus was accomplished since that time when first there stood in division of conflict Atreus' son the lord of men and brilliant Achilleus.

 Painting above is by William Page, 1811-1885
"By the general consent of criticks, the first praise of genius is due to the writer of an epick poem, as it reqireds an assemblage of all the powers which are singly sufficient for other compositions."
Dr. Samuel Johnson

Monday: Scholarly insights from an insightful scholar.
The Trojan War as a Whole--As Told by Edith Hamilton and Others
Glenn Arbery on The Iliad
Close Reading of Book One
Tuesday: Scholarly insights from an insightful scholar.
Continue with the Trojan War
Finish with Book One and yet....
Wednesday: Scholarly insights from an insightful scholar.
Test over Book One
Begin Discussion and Close Reading of Book Two
Thursday: Scholarly insights from an insightful scholar.
Further exploration of Book Two
Preview of Book Three
Friday: Scholarly insights from an insightful scholar.
Short, but formal and brilliant, paper containing a character sketch from Book One.
Readings for the Week:
Homer's Iliad--Books 2--3
Edith Hamilton's Mythology--Part Four--The Trojan War
Peter Leithart--Heroes of the City of Man--Ancient Epic, pages 43--51
How to Experience Poetic Beauty
Flee techno-gimickry and distraction.
Find a setting both aesthetic and comfortable.
Find a beverage that is robust and caffeinated.
Read with a desire to find what Allen Tate called "Knowledge carried to the heart."
Read aloud, re-read.
Supplement the assignments with other readings.
Notable and Quotable
The French poet and novelist Raymond Queneau (1903-1978) opined, "Every great work of literature is either The Iliad, that is, a story of conflict, strife, battle and war, or The Odyssey, that is, a story of a journey or exile and, after much wandering, a homecoming."

The extraordinary power of The Iliad, Alberto Manguel says, comes from the fact that it holds in tension two truths: our fascination with war and our abhorrence of its cruelty: "Homer fully understood our ambiguous relationship to violence, our desire for it and our hatred of it, the beauty we ascribe to it and the horror it makes us feel."

From an Amazon reviewer on Alberto Manguel's Homer's the Iliad and the Odyssey: A Biography.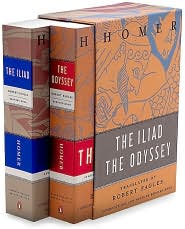 Robert Fagels' translations of Homer's epics.